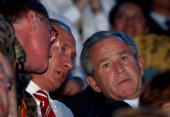 ©Alexander Hassenstein / Getty Images
"Take the pawn and I'll take your knight."
"Yeah, but the Middle East will be open for check."
"We'll see about that. Nice ceremony."
While the world slept through the month-long cyclic dream of the Olympic Games, the Axis of Evil took the opportunity to move its pieces onto Russia's doorstep. The Eastern bear responded, and the US/UK/Israeli propaganda machine went into overdrive.
As usual, ordinary people paid a heavy price for this deadly game of global chess.