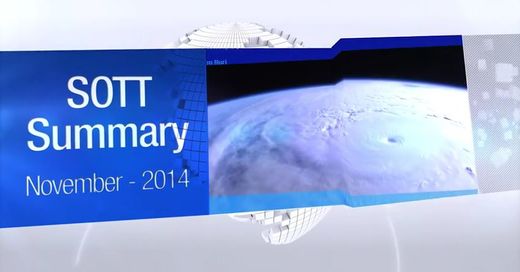 It's one thing to have record early cold temperatures and record early snowfalls in both Eurasia and North America. To have the greatest ever snow coverage for the Northern Hemisphere by mid-November is something else. November 2014 was alternately mild and super-freezing as the Polar Jet Stream whip-lashed the North American continent, bringing monster snowstorms that dumped entire annual snowfall averages in many parts of the U.S., not least the city of Buffalo, New York, which was buried under 7 feet (2.25 meters) of snow.
Numerous bright meteor fireballs were caught on camera, including several big ones - probably comet/asteroid fragments - that were seen from huge swathes of the US, Russia, China, Japan and Europe. Buenos Aires was flooded for the second time this year, while record-breaking (in many cases, breaking records set
last month
) rainfall levels were seen across much of the western Mediterranean, killing many people in Morocco, southeastern France and northwestern Italy.
Sinkholes from China to Florida opened up to swallow people and cars. Brisbane, Australia was literally smashed by baseball-sized hail in a surprise 'super-storm'. The Great Lakes began to refreeze by mid-November, not 4 months after finally thawing from last winter. Japan's largest active volcano erupted, as did Colima Volcano in Mexico, and Pavlof in Alaska, each sending ash plumes several kilometers high, while lava flows from Hawaii's Kilauea and Cape Verde's Fire Island destroyed homes.
Then there were UFOs over Paris and Iran, pods of deepwater whales seeking shallow waters, and tornado outreaks in the Mediterranean... has the world gone mad? These were the 'Signs of the Times' in November 2014:
Not a Youtuber? Watch it on
SOTT.net's Vimeo channel
:
Music used: 'Escape from the Temple' by Per Kiilstofte. Licensed under Creative Commons Attribution 4.0 International
To understand what's going on, check out our recently published book, Earth Changes and the Human-Cosmic Connection, available
here
.
Check out previous installments in this series - now translated into multiple languages - and more videos from SOTT Media
here
or
here
.
You can help us chronicle the signs of the times by sending video suggestions to sott@sott.net
Knowledge protects, ignorance endangers