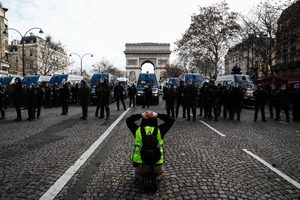 L'elite contre le peuple
It is easier to perceive error than to find truth, for the former lies on the surface and is easily seen, while the latter lies in the depth, where few are willing to search for it.
- Johann Wolfgang von Goethe
Recent Comments
We should be air dropping guns and bullets to the French People and then to the British and Germans.
---
Seriously a manifest fraud by a scuzbag is the best UFO photo you could find?
---
we simply never noticed? Ah why is what I wonder considering the money you get then a little more competence wouldn't hurt.
---
A lot more success could be had by changing tactics and switch to hating billionaires because those are the people responsible for every single...
---
Jeezus, this woman really knows how to lower the tone of the neighbourhood. Oh look, she's got her designer dumb ass Alice Walker/Leon...