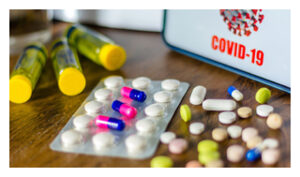 I've lost all trust in medical research - the financial muscle of Big Pharma has been busy distorting science during the pandemic
Evidence that a cheap, over-the-counter anti-malarial drug costing £7 combats COVID-19 gets trashed.
Why? Because the pharmaceutical giants want to sell you a treatment costing nearly £2,000. It's criminal.
A few years ago, I wrote a book called
Doctoring Data.
This was an attempt to help people understand the background to the tidal wave of medical information that crashes over us each and every day. Information that is often completely contradictory '
Coffee is good for you... no, wait it's bad for you... no, wait, it's good for you again,'
repeat ad nauseam.
I also pointed out some of the tricks, games and manipulations that are used to make medications seem far more effective than they truly are, or vice-versa. This, I have to say, can be a very dispiriting world to enter. When I give talks on this subject, I often start with a few quotes.
For example, here is Dr Marcia Angell, who edited the
New England Journal of Medicine
for over twenty years, writing in 2009:
"It is simply no longer possible to believe much of the clinical research that is published, or to rely on the judgement of trusted physicians or authoritative medical guidelines. I take no pleasure in this conclusion, which I reached slowly and reluctantly over my two decades as editor of the New England Journal of Medicine."
Have things got better? No, I believe that they have got worse
- if that were, indeed, possible. I was sent the following e-mail recently, about a closed door, no recording discussion, under no-disclosure Chatham House rules, in May of this year:
"A secretly recorded meeting between the editors-in-chief of The Lancet and the New England Journal of Medicine reveal both men bemoaning the 'criminal' influence big pharma has on scientific research.

"According to Philippe Douste-Blazy, France's former Health Minister and 2017 candidate for WHO Director, the leaked 2020 Chatham House closed-door discussion between the [editor-in-chiefs] - whose publications both retracted papers favorable to big pharma over fraudulent data.

"Now we are not going to be able to, basically, if this continues, publish any more clinical research data because the pharmaceutical companies are so financially powerful today, and are able to use such methodologies, as to have us accept papers which are apparently methodologically perfect, but which, in reality, manage to conclude what they want them to conclude," said Lancet [editor-in-chief] Richard Horton."
A YouTube video where this issue is discussed can be found
here
. It is in French, but there are English subtitles.