Earth Changes
---
Ships are inadvertently carrying trillions of stowaways in the water held in their ballast tanks. When the water is pumped out, invasive species could be released into new environments. Disease-causing microbes could also be released, posing a risk to public health, according to an article in the May issue of
Microbiology Today
.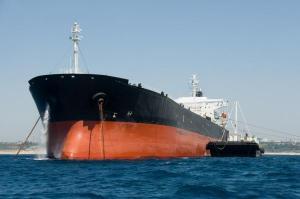 ©iStockphoto/Brian Raisbeck
When water held in the ballast tanks of ships is pumped out, disease-causing microbes could be released into new environments, researchers warn.
"There is no romantic adventure or skullduggery at work here," said Professor Fred Dobbs from Old Dominion University, Virginia. Ships pump water in and out of ballast tanks to adjust the waterline and compensate for cargo loading, making the ship run as efficiently as possible. These tanks can hold thousands of tonnes of water. "Any organisms in the water are likely to be released when it is next pumped out."
---
Hidden cameras in the jungles of Indonesia's Java island have captured rare footage of the world's most threatened rhino, boosting efforts to save it from extinction, conservationists said Thursday.

Two camera traps set up in the remote Ujung Kulon national park yielded new footage of the endangered Javan rhinoceros, said Adhi Hariyadi, leader of the project by the environmental group World Wildlife Fund (WWF).
---
The oil giant ExxonMobil has admitted that its support for lobby groups that question the science of climate change may have hindered action to tackle global warming. In its corporate citizenship report, released last week, ExxonMobil says it intends to cut funds to several groups that "divert attention" from the need to find new sources of clean energy.
---
The U.S. Climate Change Science Program (CCSP) has released "Synthesis and Assessment Product 4.3 (SAP 4.3): The Effects of Climate Change on Agriculture, Land Resources, Water Resources, and Biodiversity in the United States." The CCSP integrates the federal research efforts of 13 agencies on climate and global change. This report is one of the most extensive examinations of climate impacts on U.S. ecosystems.

The report finds that climate change is already affecting U.S. water resources, agriculture, land resources, and biodiversity, and will continue to do so.
---
Thousands of people in the Danbury area were without power for much of Tuesday afternoon after lightning hit a transmission line, officials said.

Mitch Gross, a spokesman for Connecticut Light & Power, said the lightning strike set off a chain reaction that resulted in the loss of power at six substations.

The outage affected such a wide area, Gross said, that officials could not say exactly where it occurred.

"We believe it was a lightning strike that hit a transmission line," Gross said. "That, in turn, created problems at substations in the area."
---
Steve Downes
EDP24
Wed, 28 May 2008 17:34 UTC
Residents in almost 3,000 homes and businesses in Yarmouth and Lowestoft woke to find they had no electricity this morning after a lightning strike on an overhead cable.

The strike happened at 3.58am, leaving 2,766 customers unable to boil the kettle for a morning cuppa.

Power was restored to most people by 7.37am, but EDF Energy engineers are still working to reconnect the final 163 customers in Bradwell and Belton.
---
Jeremy Lovell
Reuters
Wed, 21 May 2008 16:05 UTC
London - A picture campaign highlighting the devastation caused in Colombia by the production of cocaine for markets in Europe and America came to London on Wednesday before heading across Europe.

Shared Responsibility, a collection of photographs with captions showing the wholesale destruction of the rainforest for plantations of coca plants, aims to raise the guilt factor among cocaine users.
---
At least 21 people are reported dead and 100 are missing after snowstorms battered Mongolia over the past two days, the Xinhua news agency cited the country's emergencies officials as saying Wednesday.

Seven provinces in west and central Mongolia were hit hardest, with wind speeds reported at up to 40 meters per second. Buildings and power transmission lines have also been damaged.
---
First they saved the people. Then they rescued the dogs and cats. Finally they went in for the fish - 6,000 tons of them - threatened by a volcanic eruption in southern Chile.

Some 600,000 salmon were being moved by boats Tuesday from a fish farm just eight miles from the Chaiten volcano, according to Carlos Odebret, a spokesman for Salmon Chile, the association of private salmon industries.

He said that farm was the last of several to be evacuated because officials recently reduced the size of the prohibited-entry zone around the volcano, making it accessible again to workers.
---