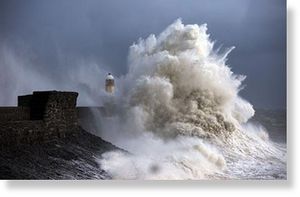 Gale-force winds of up to 100mph have led to spectacular scenes as the worst storm of the year gripped parts of Britain.
Intense weather conditions in Wales and southern England brought an abrupt end to an unusually mild autumn, with isolated flooding in south-western England and severe winds in coastal regions.
Drama was not confined to the south-west, however, with a fast rescue craft from an unnamed North Sea oil rig running aground at Britain's most easterly point.
Three men were rescued unhurt from the vessel by Lowestoft lifeboat on Friday night after the craft became stuck on a disused jetty at Ness Point in Suffolk, an RNLI spokeswoman said.