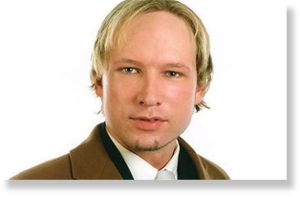 The right-wing extremist who has admitted killing 77 people in Norway's worst peacetime massacre told a court Monday that he deserves a medal of honor for the bloodshed and demanded to be set free.
Anders Behring Breivik smirked as he was led in to the Oslo district court, handcuffed and dressed in a dark suit, for his last scheduled detention hearing before the trial starts in April. He stretched out his arms in what his lawyer Geir Lippestad called "some kind of right-wing extremist greeting."
Reading from prepared remarks, the 32-year-old Norwegian told the court that the July 22 massacre - carried out with a bomb, a rifle and a handgun - was a strike against "traitors" who he said are embracing immigration to promote "an Islamic colonization of Norway."