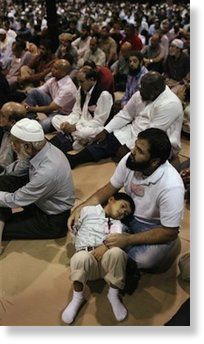 A new study based on
interviews with more than 200 North American Muslims
concludes that a recent spate of state laws banning "sharia law" from the court system may be an overreaction to a non-existent threat.
Oklahoma, Tennessee and Louisiana each passed laws or referendums to ban state judges from considering sharia and other foreign laws last year, and more than 20 other states have debated similar legislation. Newt Gingrich has
called for a federal law to ban sharia
, while his fellow Republican presidential candidate Rick Santorum has said sharia law is an "existential threat" to America.
The qualitative study, by University of Windsor law professor
Julie MacFarlane
and published by the Institute for Social Policy and Understanding think tank, is the first to ask American Muslims what they think of sharia, or Islamic religious law. MacFarlane interviewed 101 Muslim men and women, 41 imams and 70 community leaders and specialists about their uses of Islamic law in everyday life. (About a quarter of the respondents live in Canada, but MacFarlane found no significant difference between the Canadian and American responses.)
MacFarlane asked the respondents whether they thought American courts should apply Islamic law to non-Muslims in the legal system. All of them said no.