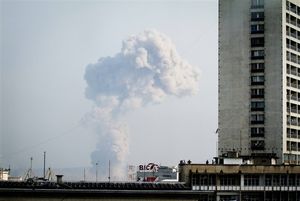 At least 200 people have been killed and many more injured in a series of explosions in the capital of Congo-Brazzaville, according to a senior presidency official.
"According to sources at the central hospital we're talking of around 200 dead and many injured," said Betu Bangana, the head of protocol in the president's office in Brazzaville.
The blasts took place on Sunday after a fire started in an arms depot at a military base.
Panic spread from Brazzaville across the Congo river to Kinshasa, where windows were shattered by the force of the blasts. The river separates the former French colony of Congo-Brazzaville from the Democratic Republic of the Congo.