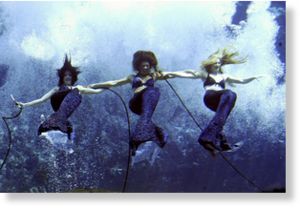 Sorry everyone, mermaids can't actually be found under the sea.
The National Ocean Service has declared that the mythical creatures do not exist after Animal Planet aired a seemingly realistic TV show in May about the half-human, half-fish sea creatures.
"
No evidence of aquatic humanoids has ever been found
," the service wrote in an article online.
The service decided to respond last week to inquiries from at least two confused viewers who watched the fictional show titled
Mermaids: The Body Found
and couldn't tell whether the creatures were real or not.
The statement, which describes mermaids' mythological origins, was written based on public knowledge because "mermaid science programs" do not exist,
NOS spokesperson Carol Kavanagh told the BBC
.
The rather unusual declaration comes on the heels of a similarly bizarre announcement from the Centers for Disease Control and Prevention.