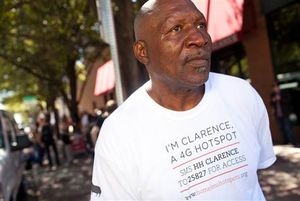 Commentator says project at technology conference was like 'something out of a darkly satirical science-fiction dystopia'
Which product at this year's South by Southwest technology conference received more attention than perhaps any other?
Homeless people as wireless transmitters.
A marketing agency touched off a wave of criticism and debate when it hired members of the local homeless population to walk around carrying mobile Wi-Fi devices, offering conferencegoers Internet access in exchange for donations.
BBH Labs, the innovation unit of the international marketing agency BBH, outfitted 13 volunteers from a homeless shelter with the devices, business cards and T-shirts bearing their names: "I'm Clarence, a 4G Hotspot."
They were told to go to the most densely packed areas of the conference, which has become a magnet for those who want to chase the latest in technology trends.
The smartphone-toting, social-networking crowds often overwhelm cellular networks in the area, creating a market that BBH Labs hoped to serve with the "Homeless Hotspots" project, which it called a "charitable experiment."