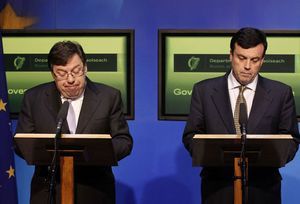 The Irish Government has recently passed the harshest budget in the history of the State with further austerity promised for the next three years and perhaps for decades. Prime Minister Brian Cowen and Finance Minister Brian Lenihan have steered Ireland from the booming prosperity of a Celtic Tiger to a ruined shell of a country where unemployment, poverty, emigration, and despair are proceeding to destroy a once proud, industrious people.
Cowen and Lenihan also bear the ignominy of having brought in the International Monetary Fund who, along with EU banksters, are now dictating Irish fiscal policy. The IMF has long had a vulturish reputation for plundering weaker countries by stripping the flesh of its victims down to the bare bones. This repulsive scavenger is well known for promoting austerity and misery, grabbing national assets for its bankster and corporate friends, and leaving the skeleton of a country's economy in its wake. The first piece of offal to be plucked from the Irish carcass by this opportunistic carrion eater was the nation's €20 billion pension fund, the life savings of working people.
As a result of Ireland's dramatic reversal of fortune the names of Brian Cowen and Brian Lenihan are now being reviled as the villains who inflicted horrendous financial disaster upon the Irish people and forced the enslavement of future generations to a criminal cadre of International Banksters.