Conservative government's latest foray into the history books has raised questions among historians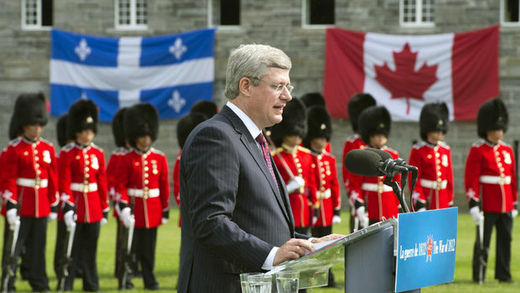 Canadian history has a reputation for being dull, but our nation's past is arousing passions in Ottawa of late.
The federal government has spent $28 million commemorating the bicentennial of the War of 1812, a program that some critics say was an extravagant exercise in drumming up patriotism.
The Conservative government's latest foray into the history books has also divided opinion. Last month, the House of Commons Standing Committee on Canadian Heritage started a "thorough and comprehensive review of significant aspects of Canadian history."
Even though the committee pulled back from its original mandate, which would have
investigated how history is being taught in Canadian schools, some still bristle at its focus on Canadian military history
. The opposition and other critics contend that the government's real agenda is to
re-write Canadian history from a more militaristic, capital-C Conservative perspective.
The government and its supporters argue that it's entirely appropriate and laudable that a government wants to
ensure that Canadians understand the history that shaped the country
we live in today.

Comment: If this was so, the classroom curriculum would look very different. They have been hiding facts since history was written.


Michael Enright, host of
The Sunday Edition
on CBC Radio One, spoke with two of Canada's eminent historians to hear their concerns about the government's approach to Canadian history.
Ramsay Cook, a Governor-General's Award-winning author and professor emeritus at York University, said he suspects the government's motives are driven less by curiosity than by politics.
"I think the problem is that governments, when they interest themselves in history, they have answers already of what they believe Canadian history is, whereas trained historians ask questions about the past. We have questions, but they have answers, which means they have an agenda."
Comment:
Despite what Ramsay Cook discusses, trained historian's are not immune to distorting history, as our past well suggests. For further discussion on this subject, a good read is
The Historian's Craft
by Marc Bloch who was killed during WWII.
Margaret MacMillan, the best-selling author of Paris 1919 who currently serves as the Warden of St. Anthony's College at Oxford University, said she's troubled by the federal government's emphasis on military history.
"We are a nation that does many things. Yes, we fought in four major wars in the 20th Century, and we're now involved in Afghanistan, but there's much more to us than that. The attempt to portray Canadians as somehow holding all these military values seems to me ahistorical."
The full discussion with Ramsay Cook and Margaret MacMillan can be heard on
The Sunday Edition
with Michael Enright, this Sunday at 9 a.m., or in the link at the top-left of this page.