Witnesses said the initial attack lasted about three hours and heavy gunfire echoed through the streets all day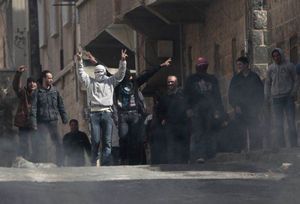 Syrian police launched a brutal crackdown on demonstrations in the restive city of Daraa yesterday, killing at least 15 people in a day-long operation that showed the regime's determination to quash the unprecedented numbers of protests in the south of the country.
According to local and international human rights organisations and witnesses, at least six people were killed in an early morning attack on the al-Omari mosque after hundreds gathered outside the building to stop police from storming it. One video posted on Facebook, which could not be verified, showed what activists said was a street near the mosque with the sound of shooting coming from nearby. "My brother, does anyone kill his people?" one voice asks. "You are our brothers."
Witnesses said the initial attack, which began just after midnight, lasted about three hours. Heavy gunfire echoed through the streets all day. Three more people were said to have been shot in the city centre after dusk, and another six bodies were found in the street. Residents told news agencies that those killed included a prominent doctor who had gone to the mosque to help victims, and a woman who had peered out of her window to see what was happening.