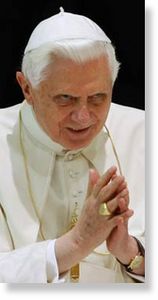 Secret documents today placed Pope Benedict XVI at the centre of allegations of cover-up by the Catholic church of a priest sex abuse scandal in the United States.
Letters from the Vatican show that the enforcement department headed by the pontiff, then Cardinal Joseph Ratzinger, took control of the efforts to bring paedophile priest Father Lawrence Murphy to justice, first ordering in 1997 that a church trial could only go ahead in conditions of total secrecy and then changing tack in 1998 and quashing it.
The change of heart came after Fr Murphy, who had sexually abused 200 vulnerable youths at a school for the deaf in Milwaukee between 1950 and 1974, wrote directly to the future Pope begging for mercy.
Monsignor Tarcisio Bertone, then Cardinal Ratzinger's deputy at the Congregation for the Doctrine of the Faith, responded by writing to the US church suggesting they take only lesser, pastoral measures against Fr Murphy.