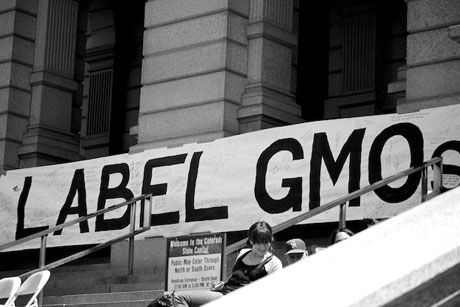 Two women legislators representing the people of their state by introducing a Mandatory GMO Labeling Bill, now find themselves facing GMO seed maker Monsanto in two different ways. One faces a long-standing physical presence and the other a lawsuit.
Elle Cochran, Maui Council Member and Kate Webb, Representative for the State of Vermont are both facing corporate giant Monsanto head on by filling state bills for mandatory labeling of all their genetically modified products (GMOs) sold in Hawaii and Vermont. Elle and Kate have filed the bills in response to an overwhelming outcry from the people they serve who say they want to know if GMOs are in their food.
Public upset is increasing as more people become aware of the replacement of traditional crops with GMO crops over the past ten years with some as high as 96% of the total crop grown in United States. When you learn 80% of processed foods found on store shelves contain GMOs, consumers feel they are helpless to get away from them. Surveys show that as many as 90% of consumers want GMO information on labels so they can make a choice. Organic is currently the only way of being sure GMOs are not added to products.
When it became clear that the Kate Webb's Mandatory GMO Labeling Bill was probably going to pass because of strong support from other Representatives,
Monsanto then publicly came out with a statement saying they would sue the state of Vermont if the bill passed
.