Unrecognisable version of photograph taken by agent a year before London attacks was sent to US supergrass.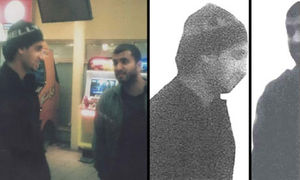 Crucial surveillance photographs clearly identifying two of the 7 July bombers more than a year before the atrocity were cropped by intelligence officials in such a "speedy" manner as to render them unrecognisable to a key supergrass.
The inquests into the 52 victims of the attacks heard from a top MI5 officer that in April 2004 a photo that originally had Mohammad Sidique Khan and Shehzad Tanweer in it was shown to the informant Mohammed Junaid Babar, described as "one of the most significant sources the intelligence services had at that time". The pair were returning from meeting a known bomb plotter.
But instead of the original colour photograph, in which both men are clearly identifiable, an intelligence officer edited the photo to render Tanweer unrecognisable and crop out Khan altogether, and forwarded it to the US where Babar was in custody. The version was also converted to black and white. Babar had previously met Khan at a terrorist training camp in Pakistan but the photograph of Khan was not forwarded to the informant.
In uncharacteristically frank language, Hugo Keith, counsel to the inquests, told the MI5 officer: "I think one of my children could have done a better job of cropping out that photograph."