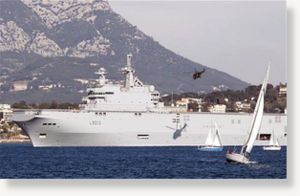 As Russia pushes ahead with its biggest rearmament programme since the fall of the Soviet Union, its decision to buy two amphibious Mistral-class assault ships from France is causing alarm from Washington to Tokyo.
The £856 million pound two ship deal will allow Russia to later build a further two such vessels at its own shipyards, giving it four hi-tech assault ships in total. The vessels can carry up to 16 helicopters, four landing craft, 13 battle tanks, around another 100 vehicles and a 450-strong force. The ships are also equipped with their own on-board hospitals.
It is the biggest and most controversial sale of foreign arms to Russia by a Western country since the Second World War.