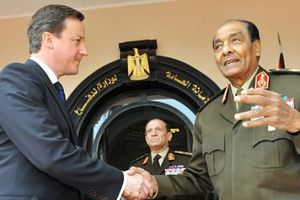 British Prime Minister David Cameron took the heads of eight arms producing companies to Egypt with him to 'to build democracy,' it has been revealed.
Cameron became the first world leader to visit Egypt after the country's long-time dictator Hosni Mubarak was toppled in a popular uprising, which had its roots in Islamic awakening.
However, the British premier was branded a disgrace after it emerged that he had
taken eight weapons manufacturers with him to the Middle Eastern country
.
Bosses from major arms and aerospace companies such as BAe Systems, Qinetiq and Thales joined the Prime Minister on the plane which last night arrived in Kuwait at the second leg of Cameron's regional tour.
Other defence contractors present included bosses from the Cobham Group, Ultra Electronics, Rolls Royce, Babcock International Group and Atkins.