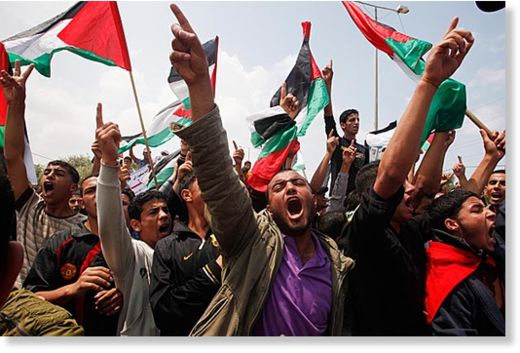 After more than 100 Palestinians breached Israel's border with Syria on Sunday, knocking down a fence and striding into a village in the Golan Heights, overmatched Israeli security forces scrambled to glean what they could from the protesters who had just, without so much as a sidearm, penetrated farther into the country than any army in a generation.
Under close questioning, the infiltrators closed the intelligence gap with a shrug and one word: Facebook. The operation that had caught Israel's vaunted military and intelligence complex flat-footed was announced, nursed and triggered on the social networking site that has figured in every uprising around the Arab World - and is helping young Palestinians change the terms of their fight against Israel.
The headlines Sunday were all about the violence of the day: at least four people were shot dead by Israeli forces on the Syrian fence line, and as many as 10 were killed either by Israeli or Lebanese army gunfire at a similar demonstration on the nearby frontier with southern Lebanon. The death toll, along with the accounts of stone-throwing and tear gas, comport with the familiar narrative of the conflict, one constructed over years of Israel describing efforts to defend itself. Israeli prime minister Benjamin Netanyahu encouraged that narrative on Sunday, arguing that the protesters were undermining the very existence of the State of Israel.