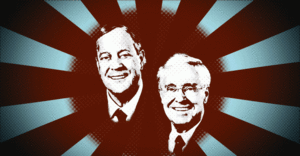 No longer is it good enough for the Kochs to spend unlimited money influencing elections. They are also touting candidates to employees while creating policies that have a chilling effect on employees' freedom of speech.
Much
has
been
written
about the owners of Koch Industries, brothers David H. Koch and Charles G. Koch, trying to control the political process through hundreds of millions of dollars in donations to right-wing causes and candidates. Now, an
In These Times
investigation reveals that the billionaires have broken out another tactic to influence the 2012 elections: attempting to control their workers' votes.
In a voter information packet obtained by
In These Times
, the Koch Industries corporate leadership informed tens of thousands of employees at its subsidiary, Georgia Pacific, that their livelihood could depend on the 2012 election and that the company supports Mitt Romney for president. The guide was similar to one the company distributed before the 2010 midterm elections, which Mark Ames and I
reported on
in
The
Nation
last year.
The packet arrived in the mailboxes of all 45,000 Georgia Pacific employees earlier this month. The cover letter, by Koch Industries President and Chief Operating Officer Dave Robertson, read:
While we are typically told before each Presidential election that it is important and historic, I believe the upcoming election will determine what kind of America future generations will inherit.