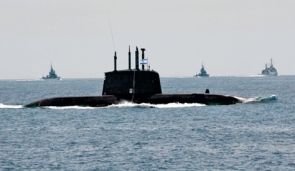 Price negotiations had balked last year when Berlin, beset by budgetary constraints, would not sell the submarine with the deep discount provided for the first three vessels of the Dolphin fleet.
Israel has finalized the purchase of a sixth submarine from Germany, with payment to be spread over several years, an Israeli official said on Thursday.
The proposed expansion of the diesel-powered Dolphin submarine fleet, considered Israel's vanguard against foes like Iran, had been held up by wrangling with Berlin over the $500 million to $700 million price tag.