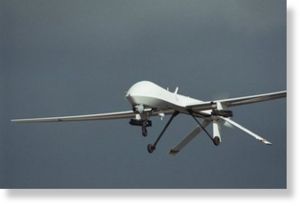 A US drone fired two missiles into a vehicle in Pakistan's tribal district of North Waziristan on Friday, killing at least three militants in a Taliban and Al-Qaeda stronghold, officials said.
The attack took place in the Kharkamar area, 40 kilometres (25 miles) west of Miranshah, a stronghold of the Taliban and militants linked to Al-Qaeda, whose leader Osama bin Laden was killed by US forces in Pakistan on May 2.
"A US drone fired two missiles targeting a militant vehicle, killing at least three militants," a senior security official told AFP.
It was the fourth such attack reported in Pakistan's tribal badlands on the Afghan border, which Washington has dubbed the global headquarters of Al-Qaeda, since US Navy SEALs killed bin Laden in the Pakistani city of Abbottabad.
The new attack coincided with a joint sitting of parliament in Islamabad, where Pakistan's intelligence chief Ahmad Shuja Pasha and army chief of staff Ashfaq Kayani were briefing lawmakers on the bin Laden operation.