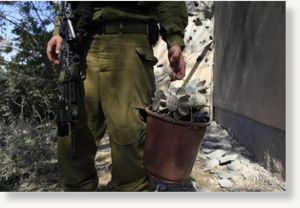 Palestinian militants fired two rockets into southern Israel on Sunday and Israeli troops killed two Palestinians in a new outburst along the volatile border with Gaza.
The violence came a day after Palestinian militants fired more than 50 mortar shells into Israel - the heaviest Palestinian barrage since a bruising Israeli military offensive in Gaza two years ago.
Both sides have largely honored an informal cease-fire since the 2009 war, in which about 1,400 Palestinians were killed, including militants and civilians. Israel says Hamas has rebuilt its arsenal, and a pattern of rocket attacks and Israeli reprisals has escalated in recent weeks.
The Hamas-allied Popular Resistance Committees claimed responsibility for Sunday morning's rocket attack, which caused no injuries or damage.
Militants in Gaza fired another rocket into southern Israel in the evening, exploding near the city of Ashkelon. No one was hurt.
Gaza Health Ministry spokesman Adham Abu Salmia said rescue teams recovered the bodies of two Palestinian men who were killed overnight along the border. The Israeli military said soldiers spotted two Palestinians crawling toward the border with what appeared to be a bomb. Soldiers called on them to stop, and opened fire after they continued moving toward the border. Such clashes are common.