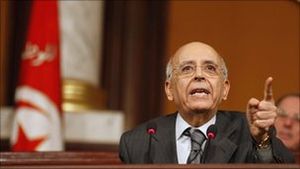 Tunisian Prime Minister Mohammed Ghannouchi has announced on state TV that he is resigning - a key demand of demonstrators.
He was speaking at a news conference in Tunis, after making a lengthy speech defending his record in government.
Mr Ghannouchi is seen as being too close to former President Zine al-Abidine Ben Ali, who was toppled in an uprising last month.
Mr Ghannouchi, 69, had served under Mr Ben Ali since 1989.
"After having taken more than one week of thinking, I became convinced, and my family shared my conviction, and decided to resign. It is not fleeing my responsibilities; I have been shouldering my responsibilities since 14 January [when Mr Ben Ali fled]," he said.
"I am not ready to be the person who takes decisions that would end up causing casualties," he added.
"This resignation will serve Tunisia, and the revolution and the future of Tunisia," he added.
It is exactly what the protesters had been demanding. Mohammed Ghannouchi, had served under the country's old dictatorship, and as far as they were concerned, until he went, their revolution was unfinished.
The question now is whether this resignation will be enough to quell the violence. As the news has spread, people have been taking to the streets, chanting and singing of victory.