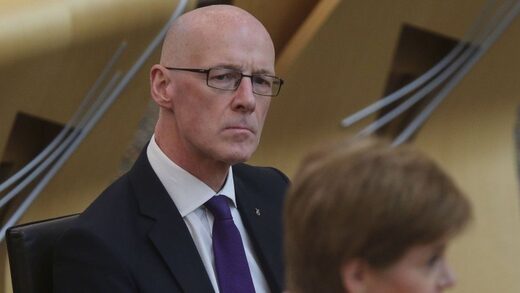 Senior SNP ministers have been accused of "deeply irresponsible"
scaremongering after doctors said there is no evidence to back up their claims that young children may be more at risk of developing serious illness if they catch new Covid variants.
Paediatricians intervened on Thursday to reassure parents after John Swinney, the Deputy First Minister, said that
the government was investigating whether "something in the new variants" made them more dangerous to children. Humza Yousaf, the SNP Health Secretary, had earlier claimed visiting soft play "could lead to the hospitalisation of children".
Comment:
Isn't it rather sinister that the UK's establishment openly declare their intent to drag children into this mass vaccine experiment, despite children being at no risk from coronavirus, and then, suddenly,
based on no scientific data at all
, certain ministers in the
scandal-ridden
Scottish parliament begin stoking parents worst fears that their children 'may be hospitalised' by these new variants?
Mr Yousaf also claimed that 10 children aged up to nine were on wards in Scotland last week "because of Covid" and Mr Swinney said the numbers of young people admitted to wards was "on the high side".
However, the warnings have baffled senior clinicians who said there was no evidence to back up the claims that children faced a heightened risk.
"We're not seeing any evidence of an increase in paediatric admissions with Covid,"

Dr Steve Turner, a registrar at the Royal College of Pediatrics and Child Health (RCPCH) and consultant paediatrician at Royal Aberdeen Children's Hospital, said.
"A very small number of admissions who test positive for Covid is what we'd expect. At the moment the situation in the UK is stable. The number of children in hospital with Covid remains very low. Children's wards are not seeing a rise in cases with Covid. Parents shouldn't worry."
He added that many children who test positive have come into hospital "for something else, like broken bones".
The comments from SNP ministers came after they
faced a backlash for delaying the easing of lockdown
for nearly three million Scots, despite three quarters of over-50s in the areas held back already being fully vaccinated and intensive care wards being almost empty of Covid patients.
One soft play business owner in Midlothian described the rules as "moronic" because he had been prevented from opening up but parents could travel, completely within the rules, to a competitor in a neighbouring council six miles away, which could open because it was in Level 1.
Challenged over the situation, Mr Yousaf said urged parents to exercise "personal responsibility". He added: "The risk if somebody did that - travelled from a Level 2 area into a Level 1 area, took their children into a soft play area - could lead to hospitalisation of children."
But he
has since been forced to issue an apology for the bizarre claims
, writing on Twitter that it "certainly wasn't my intention to create any undue alarm".
Quizzed about the situation on Thursday morning, Mr Swinney appeared to double down on Mr Yousaf's comments and raised the question of whether new Covid variants could be more harmful to children.
Mr Swinney, who is also Covid Recovery Secretary, said the government had to look at various "factors" and determine if "there something in the new variants that are emerging that is making it more acutely challenging for children, with a greater health impact".
Asked whether more children are being admitted to hospital, he said "the current numbers are on the high side, certainly over the period of Covid we've not seen very many children hospitalised but we're seeing a number just now".

Comment: What does it say about Mr Swinney that he makes startling and baseless claims that are in direct contradiction to the numerous professionals and experts who he is supposed to represent and be in dialogue with?


However, Annie Wells, health spokeswoman for the Scottish Tories, said SNP ministers must avoid "stoking fears".
She added:
"It is deeply irresponsible of the Deputy First Minister to repeat the claims from the Health Secretary without any concrete evidence to back them up.
"As we continue to tackle Covid cases, the last thing we need is parents and children alike being alarmed by this sort of language.
"Health experts have said that there is no evidence of more young people being hospitalised as a result of the new variants.
"These unfounded remarks will clearly have worried many parents across Scotland without any basis for doing so."
Experts have also stressed that Covid hospital admissions include people who are already in hospital for other treatment who test positive.
Nicola Sturgeon's spokesman said that "a close eye" was being kept on the situation but said there was not "any undue cause for concern".
He added: "More work and more monitoring needs to be done before drawing any conclusions".