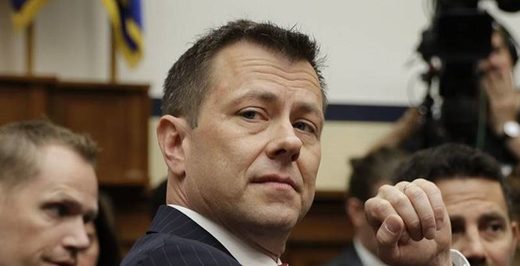 While Trump is on tour in Europe, fireworks have gone off in the Russiagate investigation back home, sparked by the 10-hour
marathon
that was FBI agent Peter Strzok's appearance before the House Judiciary and Oversight Committee, highlighted by contentious exchanges between Rep. Trey Gowdy, Rep. Louie Gohmert and Agent Strzok.
Strzok repeatedly invoked 'classified information' to avoid answering questions. He nitpicked about the intent of his texts when confronted with them. Also, the Democratic members of the Committee blatantly shielded him from uncomfortable lines of inquiry with interruptions about points of order and repeatedly talking over members who legitimately had the floor.
Many of the committee members focused in on the intent of the many texts exchanged between Strzok and his mistress, FBI Agent Lisa Page.
Strzok began the proceedings in an opening statement attempting to
characterize
his actions as stemming from 'deep patriotism', and that his professional conduct was free of bias:
"Let me be clear, unequivocally, and under oath: Not once in my 26 years of defending our nation did my personal opinions impact any official action I took," said Strzok during his opening remarks. "This is true for the Clinton email investigation, for the investigation into Russian interference, and for every other investigation I've worked on. It is not who I am and it is not something I would ever do. Period."

Text messages exchanged between Strzok and then-FBI lawyer Lisa Page revealed hostility towards then-presidential candidate Donald Trump and his supporters.

Strzok described his political and partisan opinions as rooted in patriotism: "Those opinions were expressed out of deep patriotism and an unyielding belief in our great American democracy."

Strzok said personal political and partisan biases do not affect FBI agents' conduct: "The FBI has a culture ... everything we do is dedicated to pursuit of the facts where they lay, and applying the law to those facts. There is no room for personal belief. It is something that is anathema to us. It is simply something culturally that doesn't occur."

He also said, "The fact is, after months of investigations there is simply no evidence of bias in my professional actions."

Strzok framed himself as a man of professional integrity. He claimed to belong to a small cadre of government officials aware of the "Russian interference investigation" in the summer of 2016 - privileged information he said was not shared with the news media.

He remarked, "There is, however, one extraordinary piece of evidence supporting my integrity, the integrity of the FBI, and our lack of bias. In the summer of 2016, I was one of a handful of people who knew the details of Russian election interference and its possible connections with members of the Trump campaign. This information had the potential to derail and quite possibly defeat Mr. Trump, but the thought of expressing that or exposing that information never crossed my mind."
Nor apparently did it cross his mind to alert the Trump campaign to the danger it faced from the "Russian menace" and possibly enlist its help in apprehending the culprits.
Or, more likely, there was nothing to alert the Trump campaign about, and this is more covering-up after the fact.
Strzok was required to
read out
certain of his texts before answering questions about them:
Conservative Fighters
reports
on Rep. Trey Gowdy (R-SC) grilling Strzok on "Stopping Trump":
Gowdy followed by asking Strzok about his text to Lisa Page stating he would "stop it" - the it being Trump's presidency. Gowdy queried, "When you promised to stop Donald Trump from becoming president on August 8, how many interviews had you conducted?"

Strzok stated, "Two answers to that. One, with regard to how many interviews had or had not been conducted, I have been directed by counsel for the FBI not to answer that question. Second, sir, I think it is important to take those texts in the context of how they were written and what they meant."

Gowdy shot back, "Some one may ask you that question, Agent Strzok, but I didn't...Here's what I want to know? Who is the 'he' in 'he's not'?...What is the 'it'?"

Strzok demurred, and Gowdy continued firing, "If we're going to have a debate over a two-letter word, we're going to have to do that another time. Who or what did you mean by 'it'?"

Strzok said it was written late at night, and Gowdy continued grilling him. Finally, Strzok answered, "It would be his candidacy for the presidency, and I sensed that the American population would not vote him into office." Gowdy said, "The 'we'll' is the American people?" Strzok stated, "I don't recall writing that text. What I can tell you is that text in no way suggested that I or the FBI would take any action to influence the candidacy." Gowdy finished him: "That is a fantastic answer to a question nobody asked."
Strzok often invoked 'ongoing investigation' confidentiality to
dodge
questions:
Ratcliffe hammered Strzok for claiming to be unbiased even after showing a clear distaste toward then-candidate Donald Trump during text messages to his colleagues. Ratcliffe asked if the anti-Trump texts were sent on FBI time and on FBI phones. Strzok confirmed that they were - a response that enraged Ratcliffe.

"What you meant to say was 'except for 50,000 times, hundreds of times of day where I went back and forth expressing my personal opinions about stopping Trump and impeaching Trump on official FBI phones, on official FBI time,'" Ratcliffe vented. "Other than that you never cross that line."

Ratcliffe continued: "I'm sure there are 13,000 FBI agents out there beaming with pride at how clearly you have drawn that line. Are you starting to understand why some folks out there don't believe a word you say?"

The Texas Rep. concluded - "And that you were in charge of an investigation, investigating, gathering evidence against Donald Trump, a subject that you hated, that you wanted to 'eff' him, to stop him, to impeach him. Do you see why that might call into question everything you've touched on all of those investigations? Chairman, I'm done with this witness and I yield back."
Rep Bob Goodlatte followed up on a particularly egregious text by Strzok to Page
insulting
Trump supporters:
House Judiciary Committee Chairman Bob Goodlatte (R-VA) pressed disgraced FBI agent Peter Strzok before Congress Thursday on a series of anti-Trump text messages he sent during the 2016 election, including one correspondence about how he could smell Trump support during a southern Virginia Walmart visit.
Gowdy finally had had
enough
:
Gowdy questioned Strzok on why specifically he was let go from the Mueller investigation.

"How long did you talk to him when he let you go?" Gowdy asked.

"My recollection it was a short meeting, somewhere between 15 to 30 minutes, probably around 15 minutes," Strzok said.

"And your testimony is: Bob Mueller did not kick you off because of the content of your texts; he kicked out you off because of some appearance he was worried about," Gowdy said.

"My testimony - what you asked and what I responded to - is that he kicked me off because of my bias," Strzok responded. "I'm stating to you it is not my understanding that he kicked me off because of any bias - that it was done based on the appearance. If you want to represent what you said accurately I'm happy to answer that question, but I don't appreciate what was originally said being changed."

"I don't give a damn what you appreciate Agent Strzok," Gowdy shot back.

"I don't appreciate having an FBI agent with an unprecedented level of animus working on two major investigations during 2016."
Rep. Louie Gohmert homed on Strzok's handling of information given to the FBI regarding Hillary Clinton's emails being forwarded to an unauthorized
foreign recipient
. His anger then turned to focus on the combination of arrogance and contempt that permeated Strzok's answers, much to the dismay of the Democratic members of the committee.
The Intelligence Community Inspector General (ICIG) found an "anomaly on Hillary Clinton's emails going through their private server, and when they had done the forensic analysis, they found that her emails, every single one except four, over 30,000, were going to an address that was not on the distribution list," Republican Rep. Louie Gohmert of Texas said during a hearing with FBI official Peter Strzok.

"It was going to an unauthorized source that was a foreign entity

unrelated

to Russia," he added.
Hmmm, a foreign entity but not Russia... Is that a reference to the Pakistani tie-in with the Awan brothers?
Gohmert got straight to the heart of the matter, calling out Strzok as a professional liar by pointing out that the evidence for that comes from text messages between him and the FBI woman he is committing adultery with:
Gohmert hit Strzok with highly personal questions on Thursday, which included questions about how many times he looked "innocently into [his] wife's eyes" while having an affair Page.

"I can't help but wonder when I see you looking there with a little smirk - how many times did you look so innocently into your wife's eye and lie to her about Lisa Page?" Gohmert asked.

"The credibility of the witness is always an issue," he said in defense of the remark after boos from Democratic members in the chamber.

"You need your medication," Rep. Bonnie Watson Coleman (D-N.J.) shouted at Gohmert.
The relevant exchange begins at 5 mins:
The hearings continue, with Strzok's mistress Lisa Page next up for testifying. She has so far refused to appear and has been threatened with contempt of Congress. Proceedings are so hot right now that some are
calling for them to continue behind closed doors
.