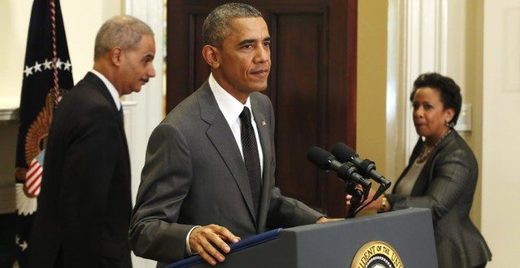 The fix was in to protect Justice Department officials as high up as the US Attorney General even before the Awan investigation started, FBI veterans with knowledge of the case now fear.
And so far President Barack Obama, who appointed the US Attorney in the District of Columbia who is slow walking the case, has proven insulated too from an investigation now on the fringes of exposing espionage and blackmail of Democratic members of Congress.
The US Attorney in DC is
Channing Phillips, who worked for Loretta Lynch and Eric Holder in key roles during their tenures as US Attorney General
. Phillips was appointed by Obama
shortly before the Awan grand jury convened
. The confirmation of Phillips' replacement nominated by President Donald Trump has been
stalled by Sen. Chuck Schumer for eight months
.
The explosive Awan case could also possibly implicate Obama as well as former attorneys general Holder and Lynch. Those tenets have not been lost on veteran federal agents with knowledge of the evidence unfolding in this complicated case against a family of alleged Pakistani IT gurus linked to dozens of Congressional Democrats, including Debbie Wasserman Schultz.
"He (Phillips)
could be
protecting Holder, Lynch and Obama depending how deep this mess is," a FBI insider said. "He
may have been
appointed for the sole purpose of quashing this case."
FBI agents feel they have amassed crucial evidence to expand the Awan case into a wider investigation of
possible espionage and blackmail
but the
Bureau is getting push back from the US Attorney's Office in D.C
., federal sources confirmed.
President Trump has nominated Jesse Liu as the new US Attorney to replace Phillips, the Obama holdover. However, Schumer and senate Democrats have stalled Liu's confirmation.
This has provided Schumer de facto control of the Awan investigation
which otherwise could implicate dozens of his fellow Congressional Democrats. Wasserman hired the Awans as IT specialists and shared the four Awans with other Democrats for classified computer work.
In essence, Schumer can currently dictate whether any charges are brought against members of Congress linked to Awan-related crimes, sources said. Until either Liu is confirmed or Phillips is forced out by President Trump.
Awan and Alvi, husband and wife, were indicted on bank fraud and financial crimes on August 17, but federal agents believe this case is much larger than mortgage-related crimes. There is growing evidence, for instance
the Awans could have sold classified information to foreign governments outside the United States
. Then there is growing talk that the Awans
may have blackmailed Congress with damaging emails and photos
. FBI sources also believe
someone in Congress tipped the Awans off months before their grand jury indictment
.
Comment:
From the linked True Pundit report:
Federal agents said preceding his arrest, Imran Awan acted like a man who was recently tipped off that he would be pinched and moreover, it was no coincidence Awan's wife was whisked out of the country in March after sidestepping the FBI at Dulles International Airport to flee to Pakistan. "She had cardboard boxes for luggage," one FBI agent said. "The school didn't even know she took her kids out."
...
Federal agents said it appears more than likely a leak could have originated from any member of Congress linked to the Awan family. Federal law enforcement sources believe officials in Congress were tipped off by a subsequent leak in the Justice Department or the hierarchy of the FBI itself. The Grand Jury convened in U.S. District Court in the District of Columbia on Nov. 13, 2016. Within weeks, Awan and his wife started moving money. Lots of it. ...

It is no coincidence Awan began liquidating assets "like a mad man" in the days before his July 24th arrest, FBI sources and public records confirm.
On Sunday, former Congressman Jason Chaffetz, who retired just weeks ago, predicted the Awan and Alvi bank fraud indictment could explode and expand into something much larger.
He said the case could prove the proverbial tip of the iceberg, involving accomplices
, according to the former chairman of the Oversight Committee for the House.
True Pundit reported six days before the Chaffetz revelations, the Awan case was much larger than believed and the family was tipped off prior to the indictment by Congress.
Phillips, whose name is a legacy in Democratic circles, could not be reached for comment. Phiilips' father was once nominated on the Democratic presidential ticket.
Hired by Holder, Phillips began his career in the U.S. Attorney's Office for the District of Columbia in 1994.
By 2010, Phillips was Holder's senior advisor at Justice. He stayed in that role serving Lynch after Obama appointed her to replace Holder.
Holder praised Phillips in a previous statement, calling him "one of the smartest, most dedicated prosecutors I've worked with during my almost four decades of public service."
Awan and his wife, as well as his two brothers are also targets of an investigation into an alleged procurement scam where the group is suspected of stealing equipment, Blackberry phones, and hacking House IT systems without permission.