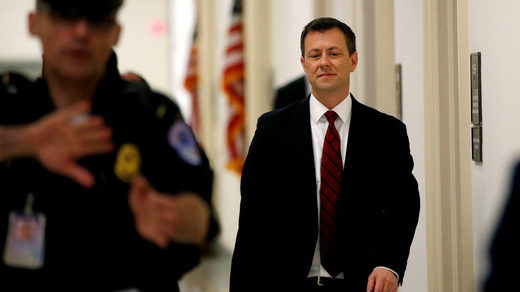 FBI counterintelligence agent Peter Strzok will face hostile questions from Republicans on Thursday when he appears before the House Judiciary and Oversight committees for a public hearing.
In his first public hearing since the Department of Justice inspector general released a report outlining his anti-Trump texts to his FBI lawyer mistress
, GOP lawmakers will be looking hard for signs that Strzok's bias swayed decisions he made in the FBI's investigations of Hillary Clinton and then-candidate Donald Trump.
The IG report acknowledged his bias and other biases in the FBI, but said none of them had an impact on the outcome of either the investigation into Hillary Clinton's private email server or the probe into Trump's alleged collusion with Russia to win the 2016 election. Republicans will be looking to refute that finding.
There's some small chance that Strzok will be joined by Lisa Page, a former FBI lawyer with whom he was having an extramarital affair while the two worked on the Clinton and Trump investigations.
Page defied a subpoena to appear before the two committees on Wednesday, and Republican lawmakers said she can appear Thursday alongside her former lover, appear behind closed doors at 10 a.m. Friday,
or be held in contempt of Congress
that day. It wasn't immediately clear which path Page would take.
Experts say the hearing poses a real danger to Strzok, who runs the risk of being tripped up in public testimony.
The hearing "is fraught with peril for [Strzok], and quite possibly the motivation behind former FBI attorney Lisa Page's decision not to appear for an interview with House lawmakers," retired FBI supervisory special agent and current CNN law enforcement analyst James Gagliano told the
Washington Examiner
.
The IG report, released in June, heavily criticized text messages sent between Strzok and Page, including one in which the former assured the latter that "we'll stop" Trump from becoming president. The report said it found no evidence that bias swayed any internal decisions, in large part because neither Strzok nor Page ever acted alone when making decisions.
But Gagliano said the challenge for Strzok is making sure his public statements match those he might have given to his superiors and the IG.
"With the IG report appearing to clear Strzok, Page, and [former] Deputy Director Andrew McCabe of any wrongdoing related to their possible political biases infecting investigations, their concerns now must be related to potential conflicting testimony," Gagliano said of GOP lawmakers.
Those lawmakers, including House Judiciary Committee Chairman Rep. Bob Goodlatte, R-Va., and House Freedom Caucus leaders Rep. Mark Meadows, R-N.C., and Rep. Jim Jordan, R-Ohio, have seized on the text messages as evidence of bias atop the FBI and Justice Department, and the investigations into Clinton and Trump.
Strzok and Page were briefly detailed to special counsel Robert Mueller's investigation before being removed because of their anti-Trump sentiments.
Strzok has already faced the two committees before
and gave an 11-hour interview in late June
. Following the interview, lawmakers were divided down party lines on whether the political views Strzok expressed ever swayed the FBI's decision-making.
"I would expect any witness to suggest they've looked at this impartially. I don't know how any reasonable person reads the texts and concludes there was not bias," Meadows said at the time. "If you have an intimate personal conversation between two people - that normally would show the intent."
Democrats disagree and say the focus on Strzok and Page is because of a "narrative" Republicans are looking to promote.
"[It's] all designed for the same purpose: to undermine the integrity of the investigation of Robert Mueller. This is an ongoing coordinated effort by the president and his allies," Rep. David Cicilline, D-R.I., told reporters after the 11-hour closed-door testimony.
On Wednesday, the top Democrats on the House Judiciary and Oversight committees
dismissed the Strzok interview as part of a "political charade."
"This investigation is a political charade - a platform to elevate far-right conspiracy theories and undermine the special counsel's ongoing criminal investigation of the president and his campaign aides," said Rep. Jerrold Nadler of New York, the top Democrat on the House Judiciary Committee, in a statement Wednesday.
To prove it, Nadler and Rep. Elijah Cummings of Maryland, the top Democrat on the House Oversight Committee, called for the release of the full and unclassified interview of Strzok. The two lawmakers also released a handful of questions asked by House Republicans during the testimony - many of which focused on Mueller.
According to Nadler and Cummings, House Republicans asked more than 200 questions about Mueller, whose investigation looks into Russian interference in the 2016 presidential election and possible links with the Trump campaign.
Fewer than five questions were asked about Russia's interference, the Democrats said.
It is unclear if Strzok still is employed by the FBI, as he was demoted to the human resources division and was escorted from the bureau's headquarters in June as part of an ongoing disciplinary investigation.
The IG did refer his findings on Strzok to the FBI's Office of Professional Responsibility, which recommends possible disciplinary measures. Page left the bureau earlier this year.
Another aspect of the hearing to watch is whether and how often Strzok pleads the Fifth Amendment during his testimony. His lawyer indicated that Strzok is wary of walking into a "trap" by giving public testimony.
In a scathing letter to the House Judiciary Committee obtained by the Washington Examiner earlier this month, Aitan Goelman, Strzok's attorney,
slammed
Republican lawmakers for behavior that "has transcended the bounds of decency, civility and fair dealing, even for this deeply divided political era."
"Having sharpened their knives behind closed doors, the committee would now like to drag back Special Agent Strzok and have him testify in public - a request that we originally made and the committee denied," Goelman wrote. "What's being asked of Special Agent Strzok is to participate in what anyone can recognize as a trap."
Strzok had been originally invited to testify publicly on July 10 and refused
before being slapped with a subpoena
to appear this week.