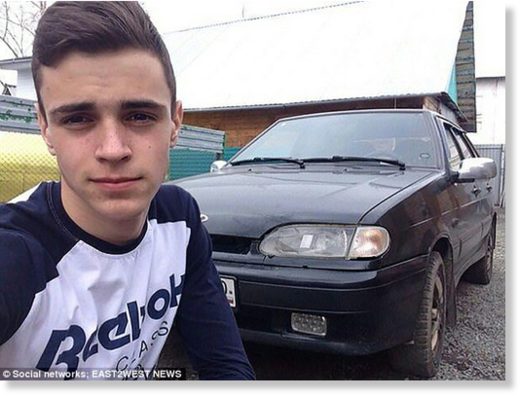 Six youngsters have died within a week trying to take 'the ultimate selfie' in Russia.
Ustinya Zembakhtin, 10, brother Sergey, 13, Vladislav Khoroshinkin, also 13, Maria Svitlenko, 14, 15-year-old Sergey Kustov and 17-year-old Denis Kondakov all perished in the last seven days at the start of the school holidays.
Three of the youngsters were killed at the same time while trying to pose in front of an oncoming freight train, while three more died in separate incidents after touching high-voltage electric cables.
Ustinya, Sergey and Vladislav all died on the Trans-Siberian railway track close to Vladivostok as they posed for a selfie on 11 June in front of an oncoming freight train.
Lera Sengeevskaya, 13, told how she pleaded with them to get off the track as the train approached.
She managed to pull one girl Anya Khvatova, 13, towards her but she was also hit by the train and is now in a 'grave but stable' condition in hospital.
'I was yelling at them: 'Stop! Get away!', said Lera, shellshocked and in tears as she spoke to local TV of seeing her friends killed in front of her.
'They didn't hear me. I managed to grab Anya but she still was hit by the train.
'When I ran to Sergey, he was already not breathing.
'When I ran to Anya, she was breathing. I pleaded with her not to die.'
Mikhail Skobenko, principal of School Number 6 in Novy village, described the 'huge shock' to parents and teachers.
He urged that all teachers redouble their warnings over selfies to children in the light of the 'tragic event' involving his students, but said he had often spoken to his students about the crisis.
'We gather students for assemblies and I personally stress to them that safety rules on roads, railways, near ponds or rivers must be observed,' he said.
'We openly tell them that all instructions are written in blood.'
Maria Svitlenko was electrocuted in Moscow region after climbing on a railway bridge at Ivanteevka causing her head to touch a high voltage cable.
She fell close to the railway track where she was found dead on 17 June.
Earlier she had been pictured looking at the bridge on which she died.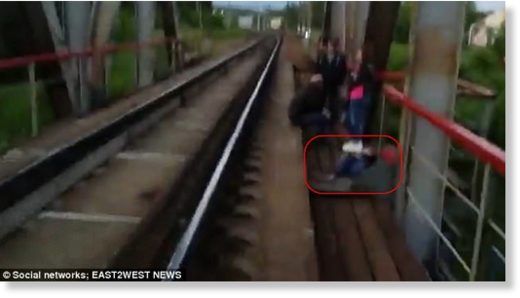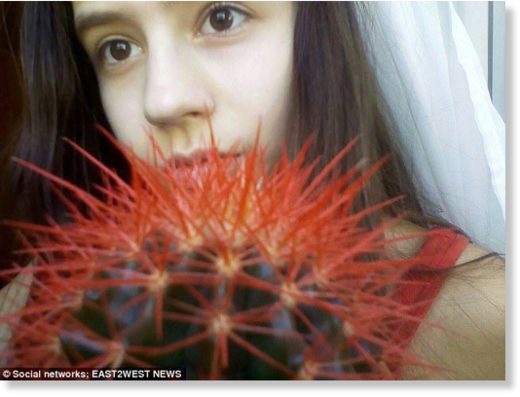 Four time zones east in Novosibirsk region, Denis Kondakov was with two teenage girls when he died a day earlier posing for a selfie after climbing a pile of gravel and reaching up to touch a high voltage cable.
His mobile and music player burned out and he suffered a severe electric shock.
'He was delivered to a medical facility with burns and, unfortunately, died there,' said Russian state investigator Alexey Maksimchenko.
His school director said: 'He was from a trouble-free, wealthy family. He studied well, and was quite a developed young man - social, lively, and open.
'He was finishing his final year at school.'
Sergey Kustov was killed on 13 June while climbing on a power transmission line in Perm region.

His friend, who survived,

told police the pair wanted to take 'the ultimate selfie'

.
Anya Aristova posted this message: 'Sergey, you had all your life in front of you. What the hell you were doing there? We remember you, love you and miss you...'
This week also saw an unnamed 16 year old girl in Yanaul, in Bashkortostan region, suffered 90 per cent burns after being electrocuted by overhead cables after climbing on a freight train to take selfies.

She is now in intensive care fighting for her life with multiple injuries.
The latest deaths come early in the long school summer holidays.
Russian rail official Maxim Kalennik warned parents over the latest incidents.
'We constantly tell people - be careful, do not go on railway tracks. Do not walk along them' he said.
'After every case, everyone feels sorry, but many parents for some reason continue to think that this will never happen to their kids.'
A security official in Moscow region is demanding a change in Russian laws to enable children and parents to be published for risking extreme selfies.
'Participants of these dangerous actions who get into potentially dangerous places and the parents of these teenagers should be made responsible,' Nikolay Cherkasov told Russian Radio.
'There is no single region where such problem does not exist. Either train riders or extreme selfie lovers, they are everywhere.'
Changes in the law were needed to 'influence the minds of our young people, in order to make them assess the risks in an adequate way'.
He claimed children attempting such risks were often 'seriously lacking' in parental attention.
He urged that such children should be made to work in 'ecological or labour camps' in their spare time.