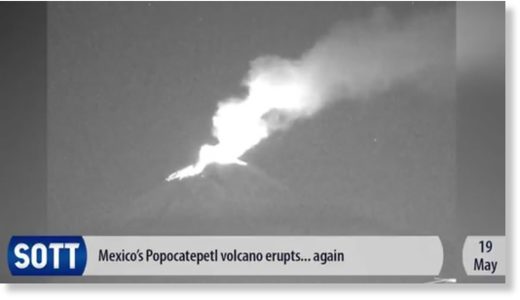 In case you haven't noticed yet, the environment on our planet seems to be mirroring the extreme levels of chaos and violence playing out at the human level. This May, massive (and often 'unprecedented') flooding once again caused widespread devastation across the planet.
Extremely late snow fall from the USA to Europe to China caused serious problems for people and the food on which they rely, as did large and damaging hail storms.
Tornados, wildfires, water spouts, whirlpools, dust storms, volcanic eruptions, weird animal activity, and much more, made this May just one more extremely alarming month on planet earth.
Or watch it on
Sott.net's Vimeo Channel
:
Music used: 'Escape from the Temple' by Per Kiilstofte. Licensed under Creative Commons Attribution 4.0 International
To understand what's going on, check out our book explaining how all these events are part of a natural climate shift, and why it's taking place now:
Earth Changes and the Human-Cosmic Connection
.
Check out previous installments in this series - now translated into multiple languages - and more videos from SOTT Media
here
,
here
, or
here
.
You can help us chronicle the signs by sending your video suggestions to sott@sott.net