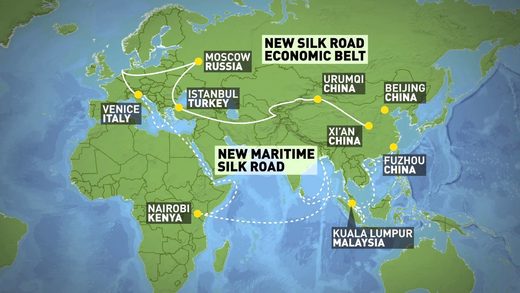 The One Belt-One Road initiative may shift the global balance of power once and for all.
World leaders, including Russia's President Putin have been attending meetings in Beijing as part of the 'One Belt - One Road' initiatives launched by China in 2013.
The ambitious project aims to set up transport and trade corridors that will help connect East-Asia, Eurasia and Europe, using both rail and maritime links.
China's goals represent the most ambitious project to re-define the logistical and financial nature of world-trade since the creation of the World Trade Organisation (WTO) in 1995
.
Chinese President Xi Jinping opened the meetings
saying
,
"Spanning thousands of miles and years, the ancient silk routes embody the spirit of peace and cooperation, openness and inclusiveness, mutual learning and mutual benefit.

The Silk Road spirit has become a great heritage of human civilisation".
Russia is keenly interested in using this project to facilitate energy trade between Russia and its eastern partners including China, Mongolia, Japan and Korea.
President Putin called One Belt-One Road, named for China's ancient silk road, a "Civilization project for the future"
.
He went on to state,
"We cannot resolve modern challenges by using old approaches. We need new ideas. We need to abandon all stereotypes.

We should set a role model for the global community of how we can work together, develop together, based on equality and respect for national sovereignty based on international law and the United Nations principles".
Turkey's President Erdogan meanwhile said that the project would "pave the way in a new era".
The projects logistics are immense and any project of this size will not come to fruition in a day. This is especially true as the countries leading the project seek cooperation and consent. Intimation and domination, hallmarks of western economic imperialism, are off the table.
President Xi made this abundantly clear. The Chinese President
said,
"We have no intentions to meddle in the internal affairs of other countries via bringing our social system and the development model, or by imposing our will (on other states)".

Comment: Which is, by the way, the exact opposite of the modus operandi of America.


However,
the political implications are clear
. While the leaders of China, Russia, India, Turkey, Pakistan, Philippines, Indonesia,Vietnam, Myanmar and others gathered in Beijing, the leaders of the United States and Europe's largest economies were notably absent. Instead, these countries sent minor officials.
The multi-polar world is moving on and going forward. What's more is that it is doing so with neither the permission nor even the participation of western leaders.
The global future will be increasingly determined by the countries who have enthusiastically participated in the One Belt-One Road forum. Those who stayed home may see their hegemonic grip on the globe erode
.
Below is a
full list
of representatives of each state present at the meeting:
Afghanistan: Unspecified minister-level delegation
Argentina: President Mauricio Macri
Australia: Trade Minister Steve Ciobo
Azerbaijan: Economy Minister Shahin Mustafayev
Bangladesh: Unspecified minister-level delegation
Belarus: President Alexander Lukashenko
Brazil: Secretary for Strategic Affairs Hussein Ali Kalout
Cambodia: Prime Minister Hun Sen
Chile: President Michelle Bachelet
China: President Xi Jinping
Czech Republic: President Milos Zeman
Ethiopia: Prime Minister Hailemariam Desalegn
Finland: Minister of Transport and Communications of Finland Anne Berner
France: Jean-Pierre Raffarin, chairman of the Committee on Foreign Relations, Defense and Armed Forces in the French Senate
Greece: Prime Minister Alexis Tsipras
Hungary: Prime Minister Viktor Orban
Indonesia: President Joko Widodo
Iran: Minister of Economy and Finance Ali Tayebnia
Japan: LDP Secretary General Toshihiro Nikai
Kazakhstan: President Nursultan Nazarbayev
Kenya: President Uhuru Kenyatta
Kyrgyzstan: President Almazbek Atambayev
Kuwait: Minister of the Amiri Diwan Affairs Sheikh Nasser Sabah Al-Ahmad Al-Jaber
Malaysia: Prime Minister Najib Razak
Maldives: Economic Minister Mohamed Saeed
Mongolia: Prime Minister Jargaltulga Erdenebat
Myanmar: State Counselor Aung San Suu Kyi
Romania: Deputy Prime Minister and Minister of Environment Gratiela Gavrilescu
Nepal: Deputy Prime Minister and Finance Minister Krishna Bahadur Mahara
New Zealand: Science and Innovation Minister Paul Goldsmith
North Korea: Confirmed to be sending an official delegation; the delegation will be led by Kim Yong-jae, the North Korean minister of external economic relations, according to a number of South Korean media reports
Pakistan: Prime Minister Muhammad Nawaz Sharif
Philippines: President Rodrigo Duterte
Poland: Prime Minister Beata Szydło
Russia: President Vladimir Putin
Saudi Arabia: Minister of Energy, Industry, and Mineral Resources Khalid Al-Falih
Serbia: Prime Minister Aleksandar Vucic
Singapore: Minister for National Development and Second Minister for Finance Lawrence Wong
South Korea: Ambassador to China Kim Jang-soo; Park Byeong-seug, National Assembly member for the Democratic Party
Spain: Prime Minister Mariano Rajoy
Sri Lanka: Prime Minister Ranil Wickremesinghe
Switzerland: President Doris Leuthard
Thailand: five ministers: Minister of Foreign Affairs Don Pramudwinai, Minister of Transportation Arkhom Termpittayapaisith, Minister of Commerce Apiradi Tantraporn, Minister of Digital for Economy and Society Pichet Durongkaveroj, and Minister of Science and Technology Atchaka Sibunruang
Turkey: President Recep Tayyip Erdogan
UAE: Dr. Sultan Ahmed Al Jaber, Minister of State and Group CEO of ADNOC
Ukraine: unspecified official delegation
United Kingdom: Chancellor of the Exchequer Philip Hammond
United States: Matt Pottinger, National Security Council senior director for Asia
Uzbekistan: President Shavkat Mirziyoyev
Vietnam: President Tran Dai Quang