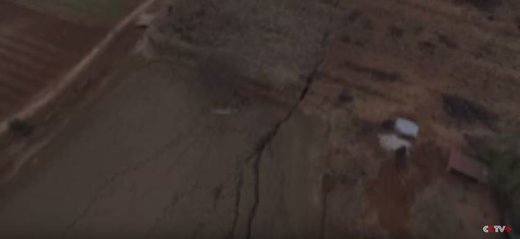 More than 400 villagers have been evacuated after huge cracks and cave-ins appeared at previous mining area in Jingmen City of central China's Hubei Province last Saturday.
Fortunately, no casualties have been reported yet.
Cracks up to hundreds of meters long and 20 cm wide appeared in croplands of the Fengmiao Village at around
03:00
early Saturday morning. The land subsidence extended across most parts of the village, leaving fishponds dried up, buildings collapsed and roads damaged.
"We woke up after hearing a huge noise, like a bomb going off.
I turned on the light and found the house cracking. We took our kid and ran out barely wearing any clothes," said a villager.
The village was immediately cordoned off by local authorities.
The incident occurred at a used up gypsum-mining area that was abandoned in around 2008. It belonged to a local mining enterprise named Baolong, which has been operating in the area since 1980s.
"[The Preliminary investigation shows that the] cracks along the surface were caused by deformations within the mined-out areas. There were multiple vertical posts in the mined-out area when it was closed. Then the vertical posts gradually broke over the years amid conditions such as weathering and erosion," said Yang Yijun, an expert with the Hubei Geological Bureau.
Production has been suspended at all the gypsum-mining enterprises in the area.