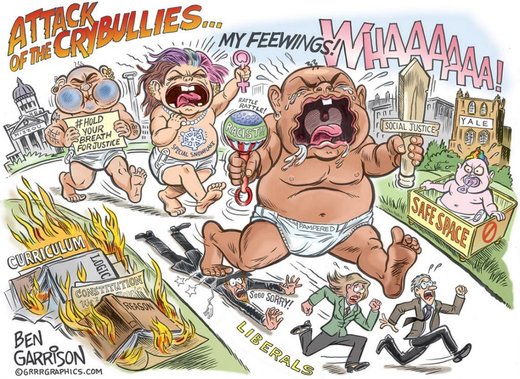 America is being overrun by a bunch of crybabies whose whining has reached a fever pitch. With the recent presidential election it's as if a switch has been flicked which gives people carte blanche to emote all over everyone else and throw tantrums in public. The ability to maintain a stiff upper lip and deal with adversity is being eroded. Feelings, however misplaced, are all that count while facts and reality are given short shrift. What are the roots of this emotional hysteria? Why do grown-ups need to hold cry-ins in their safe spaces while being protected from microaggressions? What are the effects on the individual specifically and society in general when a culture of narcissism and the eschewing of reality is not only accepted, but promoted?
Join us on this episode of The Health and Wellness show for a lively discussion of this topic. Stay tuned, as always for Zoya's Pet Health Segment where the topic will be euthanasia.
Related Links:
Where did generation snowflake come from?
(video)
Maybe it's time to protest the protesters!
(video)
Precious snowflakes: Grieving liberal students beg for exam cancellations in wake of Killary's loss
7 Harsh Realities Of Life Millennials Need To Understand
Professor explains the increase of 'precious snowflakes' - cites narcissism, over-nurturing
​Precious snowflakes
Running Time:
01:21:07
Download:
MP3