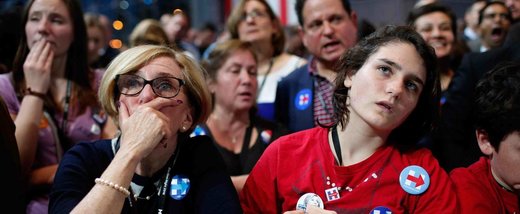 Liberal students across the nation watched in shock as
Donald Trump clinched victory
from Hillary Clinton to become the 45th president of the United States.
But some wiped their tears, and pulled themselves together enough to
ask their professors to cancel their exams because they were so upset by the results.
And one Yale economics professor heard the cry, and decided to protect his snowflake charges by making the test optional.
He wrote to them saying: "I am getting many heartfelt notes from students who are in shock over the election returns" and "fear, rightly or wrongly for their families" and are "requesting that the exam be postponed."
It isn't clear who the professor was, but Yale
publishes a list of its economics faculty members here
.

John Victor, editor of the Yale News, published the extraordinary message, and noted that
many more snowflake students were demanding similar treatment:
The professor, in charge of the Econ 115
"introductory microeconomics"
unit, acknowledges that many students sacrificed their time preparing for it, and were welcome to take it anyway.
But he said that said anybody who could not face going it that day could skip it with no consequences.
Apparently not everybody was so lucky, though:
UPDATE:
'Anxious and fearful' students demand day off to cry about Trump
College students at several schools have started petitions urging their universities and professors to cancel classes in the wake of Donald Trump's electoral victory, citing "emotional distress."
A
petition to cancel classes
at Loyola University has 298 supporters, over halfway to its goal of 500 signatories,
though some signatures appear to have been revoked Wednesday
.
"Loyola students are exhausted and exasperated from this election and no one wants to go to class," the petition explains. "The only cure to an election hangover is drinking a cold beer in bed...all day."
On top of the alleged exhaustion,
comments from several signers cite mental health as an additional reason to cancel classes
, with one student declaring, "
some people are literally scared for their lives
."
"i don't think i can emotionally handle classes tomorrow with what I'm seeing," another signee
wrote
.
"Last night I cried until I vomited," a Loyola student claimed. "I don't even remember falling asleep, but I must have passed out from hyperventilation. I woke up with my eyes nearly swollen [sic] shut. My body is sore. My mind is numb."
Students at Bryn Mawr College started a
similar petition
that currently has 348 signatures, urging college president Cassidy to cancel classes so that students may "mourn" Trump's victory.
"We need a day to heal after we've been told the country doesn't value our existence at all," whined one student.
Signers of both the Loyola and the Bryn Mawr petitions suggested that a Trump presidency also threatens their physical well-being, alleging safety concerns for minority groups on campus.
"A Trump election directly endangers the lives of all students at Bryn Mawr College that are people of color, lgbtqa+, non-Christian, and female," a signee of the Bryn Mawr petition claimed. "If Trump wins, it's not only a question of self care but personal safety."
Another concurred, saying, "I am deeply afraid for myself, for my friends, for my family, for students I've never talked to on campus."
A
third petition
, signed by 155 people and addressed to Johns Hopkins University president Ron Daniels, maintains that students need time off from class in order to confront "emotional distress," explaining that they are "anxious and fearful for the future" due to Trump's election, which they add "will not be easy for a lot of people and families."
"The future is at stake and we're stuck with the very scary possibility Donald Trump will be president," the petition states. "So all in favor of asking President Daniels for a day off tomorrow let your voice be heard because unfortunately it's not being heard in this election."
At press time, none of the campuses in question had opted to cancel classes in response to the students' pleas.