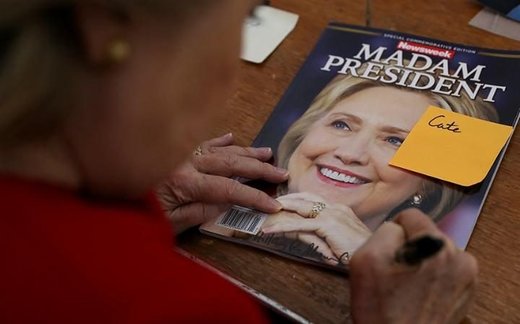 Everyone from pollsters to pundits got the result of the US presidential election wrong.
But few can have made it in such an expensive manner.
Newsweek
and a partner that prints up special commemorative issues has been forced into an embarrassing recall, after it sent out 125,000 copies of its Madam President issue designed to celebrate Hillary Clinton's win.
Although Topix Media had also prepared a Donald Trump version it thought it was safe to dispatch only the version detailing "Hillary Clinton's historic journey to the White House", as the cover put it.
"Like everybody else, we got it wrong," Tony Romando, chief executive of Topix Media, told
The New York Post
.
The edition appeared on shelves on Tuesday but was hastily withdrawn.
"All wholesalers and retailers have been asked to return any issues they have as we need to clear room for [150,000 copies of] the President Trump issue," said Mr Romando.
"We expect it to sell very well as there is obviously a great demand."
He said only 17 copies were sold.
The front cover went viral as soon as it was publicised, with some Trump supporters - apparently oblivious to the alternative version - claiming it showed collusion between the mainstream media and the Clinton campaign.
Mrs Clinton was even spotted signing a copy at an eve of election event in Pittsburgh.
Mr Trump's shock win stunned even the network news journalists as they grappled with vote tallies late on Tuesday night.
America's leading professional association of pollsters has launched an inquiry into how they could the result so wrong
.
The final polls gave Mrs Clinton a lead of about four percentage points on average, while state by state analyses suggested she was on course to sweep the electoral college.
She is on course to edge the popular vote by just 0.2 per cent but lost crucial swing states such as Ohio, Florida and Pennsylvania
.
Newsweek's
jumping of the gun echoes the infamous "Dewey Defeats Truman" headline on the front page of
the Chicago Daily Tribune
on November 3, 1948, the day after incumbent President Harry S. Truman won an upset victory over Republican challenger and Governor of New York Thomas E. Dewey in the presidential election.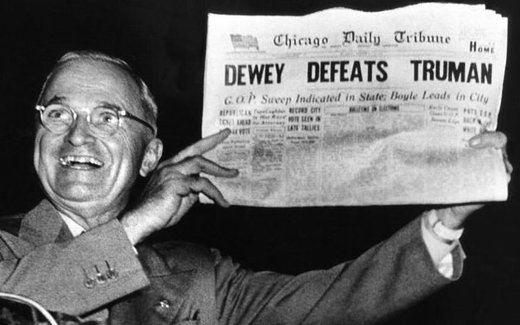 It was famously held up by Truman at a public appearance following his successful election, smiling triumphantly at the error.