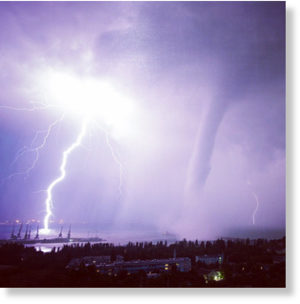 Large waterspout and lightning off Feodosia, Crimea peninsula, Russia. Sept 6th 2018.
Given that China was arguably the leading power in the world from c. 1100-1800, and was certainly the leading power in the East Asian region, one would anticipate that the smaller powers in that region would have balanced against it. But this in fact did not happen. The reply might be in turn that this was because China was the kingpin within the international tribute system, and was therefore an imperialist power. But arguably this system was neither imperialist nor could it be explained through the 'conventional practices' associated with Western great power politics.
- John M. Hobson
Recent Comments
Thank you very very much for the fastest archiving of a show! Looking forward to listning to this discussion.
---
George you seem to think the average person is really stupid first it's with your comments on evil now this what's up give us average people some...
---
record President Trump in the White House to expose the chaos consuming the administration Rod Rosenstein was already a dead duck ... this smells...
---
must agree authority and responsibility that do not run together lead to no accountability. Who paid for the badges, cars, guns, "training" etc....
---
IF MH370 ever actually existed (and it's a 50/50 bet) its every move would have been tracked by half a dozen 'agencies' and these 'agencies' would...