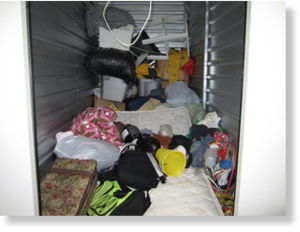 A woman who allegedly lived with her two young boys inside a Ewing storage locker for weeks is being held on $75,000 bail and will likely spend the weekend in jail, police said today.
Sheena Johnson, 27, faces two second-degree counts of child endangerment after Trenton police officers found the two boys, ages 5 and 10, inside the roughly five-foot-by-ten-foot locker at Extra Space Storage on the 1400 block of Prospect Street in Ewing Thursday morning.
Trenton Officer Robert Arnwine tracked the boys down after Johnson was arrested for allegedly slashing the tires of her boyfriend's car on Calhoun Street earlier.
Johnson was also charged with violating a restraining order, Lt. Mark Kieffer said today. Trenton police said Johnson had been turned over to the Mercer County Sheriff's Office and would probably be taken to the Mercer County Corrections Center.
Ewing police said Johnson was expected to appear in municipal court on Monday.
The boys were taken into the care of the state Department of Children and Families. They had a medical examination yesterday and had no signs of abuse or illness, police said.
Arnwine went to the storage facility after Johnson told him her two children were there, Kieffer said. He found the locker registered to Johnson, pulled up the unlocked door and found the boys inside, police said.
Ewing police and the Mercer County Prosecutor's Office are investigating whether Extra Space Storage bears any responsibility, after evidence showed Johnson and her children had been living there for some time, Ewing Sgt. John Stemler said.