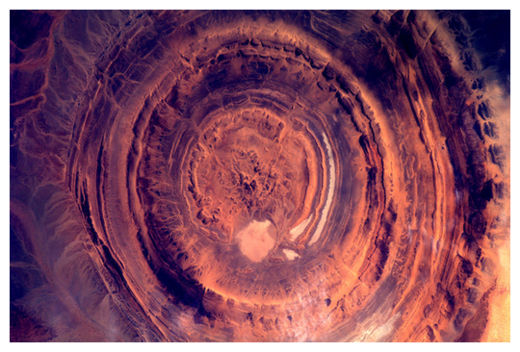 A huge, copper-toned lava crater dominates a mesmerizing photo taken by an astronaut aboard the International Space Station.
Dutch astronaut Andre Kuipers snapped the hypnotic image of what was likely an old
volcanic basin
as the space station flew over the Sahara Desert in Mauritania, on the Atlantic Coast of West Africa.
The photo shows Kuipers' unique vantage point from the orbiting complex, which flies approximately 240 miles (386 kilometers) above the surface of the Earth. The image was taken on March 7 using a Nikon D2Xs camera, officials at the European Space Agency said in a statement.
During their months-long stints aboard the International Space Station, astronauts often perform Earth observations for science and public outreach.
Throughout their mission, many spaceflyers maintain active social media presences, such as on Twitter or Google+, to share
stunning views from space
with members of the public.
Space agencies also use photos taken by astronauts to engage students and space enthusiasts in geography, planetary science and human spaceflight.
There are currently six people living and working on the space station: Kuipers, Americans Dan Burbank and Don Pettit, and Russian cosmonauts Anton Shkaplerov, Anatoly Ivanishin and Oleg Kononenko. Burbank is commander of the station's Expedition 30 mission.
Kuipers launched to the space station in December 2011. He is almost midway through his six-month stay at the orbiting outpost. Kuipers, Kononenko and Pettit are slated to return to Earth on July 1.