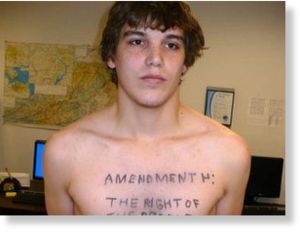 Authorities involved in the arrest of a protester who removed his shirt and pants at a security checkpoint at Richmond International Airport were doing their jobs and acted appropriately, a government attorney argued Wednesday in Richmond federal court.
Carlotta P. Wells, an attorney for the U.S. Department of Justice, argued in favor of a motion to dismiss Aaron B. Tobey's lawsuit, which claims his constitutional rights were violated. Wells said Tobey had made his point by removing his shirt to display words from the Fourth Amendment written on his torso but went too far when he disobeyed a command to pass through a security scanner.
But Anand Agneshwar, an attorney representing Tobey in his lawsuit against airport and federal officials, said the 21-year-old Charlottesville man obeyed the commands of authorities. Agneshwar said it was the authorities who went too far by detaining Tobey for 90 minutes or longer with his hands cuffed behind his back.
"This was one long process to determine if this gentleman was a security risk," Agneshwar told U.S. District Judge Henry E. Hudson.
Hudson said he hopes to rule on the defendants' motion to dismiss in the next two weeks. The judge also set a trial date for Jan. 18.
Tobey claims that the U.S. Department of Homeland Security, the Transportation Security Administration and airport officials violated his constitutional rights.
Tobey stripped to his socks and shorts Dec. 30 in a protest against airport security procedures and unreasonable searches and seizures.
He was taken into custody and charged with disorderly conduct, but Henrico County authorities dropped the charge.
Tobey eventually was allowed to continue on his flight to attend a family funeral.
The defendants argue in court documents that federal and airport officials were working together appropriately to ensure security at the airport during the busy holiday travel season.
"The TSA officers were clearly just following federal laws," said Wells, who argued for the federal defendants Wednesday.
Tobey's attorneys argue in court papers that the TSA agents and airport police "humiliated and punished him in direct retaliation for his protected act of peaceful protest, detaining and arresting him without probable cause, repeatedly searching his belongings, seizing and discarding certain of his personal effects."
The lawsuit alleges false imprisonment, malicious prosecution and violations of Tobey's rights under the First, Fourth, Fifth and 14th amendments. It seeks $250,000 in compensatory damages, legal fees and additional training for TSA employees.
See surveillance video footage of Tobey at the airport scanner
here
.