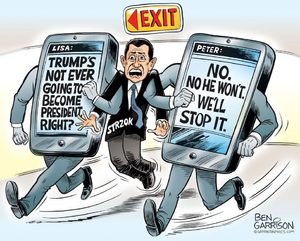 Strzok has left the building
What is truth anyway? The truth is the essence of something, its natural state, something as it really is. It is really a quest for love, because to truly love something we must know it for what it really is. Perhaps we can sense in an unconscious way that there is a deeper truth to everything and everyone, and we are led to search for the truth about it, so that we can truly love it for what it really is.
- Joe Quinn
Recent Comments
yes consciousness participates and creates and interprets wave forms in the simplest way, as do all consciousnesses around us, rocks, plants,...
---
Well, they're certainly not stupid and can be quite sneaky!
---
Man playing God again. This can only end badly as a huge part of an ecosystem gets 'taken out', or stuff happens that they didn't expect.
---
Corruption and conflict of interest among American Lawmakers and the legal industry? Well yes, of course! Business as usual... [Link]
---
Back in the day, I was in a gang called the Jets, and the Sharks were the other gang, and we used to settle our differences with song and dance...