Another cold snap is heading for the UK, as forecasters warn of the chilliest winter for 13 years.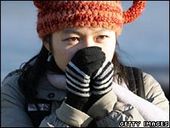 Icy winds from the continent will be felt in the south and east of the UK in the next few days, followed by a "blast of bitterly cold air" from Russia.
Temperatures in some areas are forecast to plunge from up to 7C (45F) on Saturday daytime, to between -1C (30F) and -3C (27F) on Sunday night.
BBC weather experts said snow was likely in some parts early next week.
Weather Centre forecaster Tomasz Schafernaker said daytime temperatures next week would be just above freezing, especially across eastern and central parts of the country.
He added there was a "risk of some snow flurries moving in from the North Sea", meaning eastern coastal areas are most likely to see snowfall.
"Wind chill will add to the problems making it feel particularly bitter," he said.
In London the maximum temperature will be 1C (34F) on Sunday, but will feel more like -7C (19F), said forecasters.
Icelandic woolies
So far this winter has seen temperatures between 1C and 1.5C below average. With a freezing start to February the season looks set to be the coldest since 1995/1996.
The coldest UK temperature ever recorded, of -27C (-17F), was equalled on 30 December 1995, in Altnaharra, northern Scotland.
The last widespread cold snap to hit the UK was early this month, although some parts of the country have seen snowfall in more recent weeks, including Scotland and Northern Ireland.
As the new year began, cold Arctic air was dragged across the country from the north, lingering for more than a week due to high pressure preventing it from moving away.
That cold snap triggered extra cold weather payment for millions of pensioners and vulnerable people.
The £25-a-week assistance comes into force when an area's average temperature falls or is forecast to fall to 0C or below for seven consecutive days.
Heatwave down under
People in Iceland - a country currently in desperate economic trouble - have shipped jumpers and blankets to pensioners in England this week, to keep them warm in the winter.
A container of woolies arrived in the north-east of England after an appeal on an Icelandic radio station. They were handed to local charities in Hull on Thursday.
The campaign started after two Icelanders living in Manchester wrote to the programme, saying they were appalled by the numbers of elderly people dying from cold-related illnesses in England.
While the UK prepares for more freezing temperatures, Australia is experiencing the hottest weather for more than a century, with temperatures in some southern parts exceeding 45C (113F).
On Thursday the heatwave reached Tasmania, with the Australia Bureau of Meteorology reporting all-time record maximum temperatures of up to 19C above the January average.