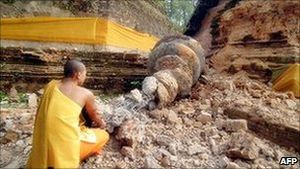 More than 60 people have died in a magnitude-6.8 earthquake in Burma which struck near the Lao and Thai borders.
It happened at 1355 GMT on Thursday and was centred about 70 miles (110 km) from the northern Thai city of Chiang Rai, the US Geological Survey said.
It was felt 800km to the south in the Thai capital Bangkok, and in the Vietnamese capital, Hanoi.
The quake was shallow, at a depth of 6.2 miles (10km). There are fears the casualties could be much higher.