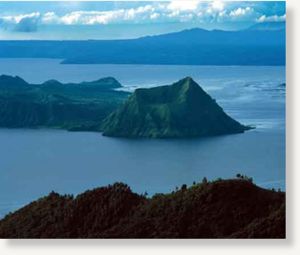 Restive Taal Volcano continued to show signs of activity, as state volcanologists recorded at least five volcanic quakes there in the last 24 hours.
The Philippine Institute of Volcanology and Seismology (Phivolcs) on Wednesday said it also observed weak steaming activity at the thermal area of the main crater-lake.
Phivolcs also reiterated its warning against carbon dioxide in the area, saying gas measurements in March amounted to 4,670 tons per day - double the 2,250 tons per day in January.
"The remarkable increase in C02 [Carbon dioxide] concentration indicates anomalous gas release from the magma at depth," it said.
It added Alert Level 1 remains over Taal Volcano, saying no eruption is imminent but the public should strictly observe some safety precautions.
Phivolcs said the main crater should remain strictly off-limits because sudden hazardous steam-driven explosions may occur and high concentrations of toxic gases may accumulate.