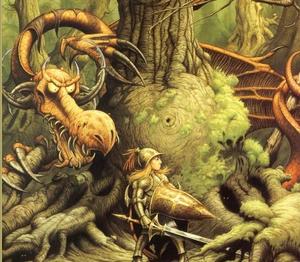 ©Rodney Matthews
"The time has come," the Walrus said,
"To talk of many things:
Of shoes--and ships--and sealing-wax--
Of cabbages--and kings--
And why the sea is boiling hot--
And whether pigs have wings." (Through the Looking-Glass and What Alice Found There, by Lewis Carroll, 1872, jabberwocky)
In the
last installment of my series about comets and asteroids
, I quoted John Lewis of the University of Arizona who said:
Astronomy books and papers far too numerous to cite offer the assurance that "no one has ever been killed by a meteorite."
We now know, from that article, that this is very far from the truth. We also know that we do stand in some peril at the present time and that our governments seem to be concealing that fact, lying to us, distracting us, and generally making sure that the resources that they collect from the masses are not used on behalf of those masses, but rather to enrich and ensure the survival of that small minority of pathological individuals at the top; in short, we're all being royally screwed.
In that last article, I also quoted some excerpts from a couple of news items that expose the fact that science is controlled and manipulated by politics. It has, apparently, become something of a scandal during the Bush Administration. Scientific reports have been censored, suppressed and falsified particularly in regards to health and environmental research. Anthony Robbins, professor of medicine at Tufts University and former director of the National Institute for Occupational Safety and Health, came right out and said that the White House itself has been directly involved in the suppression and falsification of science. Kurt Gottfried, professor of physics at Cornell University and a member of the Union of Concerned Scientists informs us that "the public and Congress have often been deprived of accurate and candid scientific information." (
Top Scientists Want Research Free From Politics
)