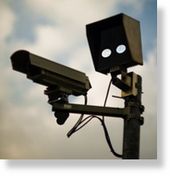 Rather belatedly, citizens of the UK are waking up to the fact that they are under constant surveillance, have lost their privacy, their civil liberties and are now beginning to voice their outrage. 1.1 million children are on a UK DNA database and schools are assisting in softening-up the next generation to accept biometric identity and zero privacy.
Drone aircraft are beginning to be used to monitor civilian populations in the USA and the UK. The USA and Australia attempt to catch up with the UK's dystopia by using the tried and tested 'terrorist' meme. Your Skype calls are likely to soon have someone listening in on them and the much criticized social networking sites are actually displaying some positive uses for once.
Has it been left too late to stop the Big Brother society that we are now a part of?