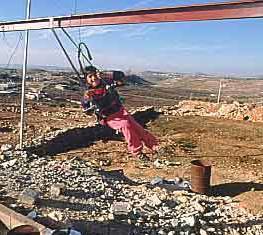 ©Mike DuBose, UMCom
A Palestinian child swings over the rubble of the family home, demolished by Israeli bulldozers in a valley east of Hebron.
The Forward
, which bills itself as "the Jewish daily",
had an article this week
on American Jews who choose to become illegal settlers on occupied Palestinian land. The "difficulties" they face are illustrated by the following comment:
"'Before we found Neve Daniel, my husband told me, 'I love you and I want to live in Israel, but I'm very materialistic and if I don't have a nice house, we're not moving,' said Lara Kwalbrun, a peppy mother of six, as she gave a tour of her luxurious new home while toting a baby in her arms."
As long as moving into an illegal settlement meant life in a mobile home, a large number of American Jews weren't interested. They left it up to their more pioneering and violent brethren to go out and "colonize" the area, to actually confront the owners of the land with clubs and guns and chain saws and bulldozers. Now that the out and out outlaws have "claimed" the land, so to speak, and the base can move into a gated community fed by water siphoned away from the Palestinians and policed by troops paid for by American taxpayers, these new settlers can move in and never have to come into contact with the people they have displaced. You know, the ones walled up in the concentration - uh, refugee - camps out of sight and out of mind.