I read Styron's novel,
Sophie's Choice
, when it first came out. I was mesmerized all the way through (and it's a pretty long book!). I didn't go to see the movie in the theatre because, knowing the story, at the time, I didn't want to be depressed. My babies were little and I didn't think I could handle seeing Sophie make that choice!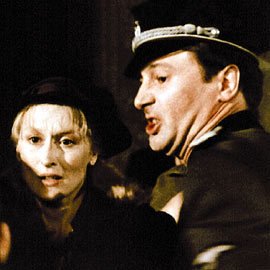 ©Universal
Sophie's Choice
A couple of years ago, I bought the movie, but it sat on the shelf for a long time, unwatched until last night when most of us here at SOTT HQ viewed it. I don't think anyone else here had read the book, so they didn't know what they were in for.
Ark, my Polish husband left the room about half way through because he just couldn't stand to be reminded of things that were way too real for him. The rest of us continued to watch, hypnotized by the inexorable unfolding of the tragedy. After it was over, nobody spoke for a very long time. It's that kind of movie.
However, there is something about the movie that was left out and this "leaving out" suggests that this movie was used as part of the Exclusive Jewish Holocaust propaganda campaign.