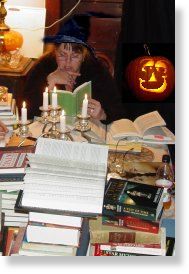 Even though this Hallowe'en special article was published in 2005, it is even more true today. And, with the recent publication of Naomi Klein's "Shock Doctrine" and Martha Stout's "The Paranoia Switch", the general public is now able to see even more of the "man behind the curtain" that Laura Knight-Jadczyk has been speaking and writing about for over 20 years. It doesn't have to be Hallowe'en to be scary anymore.
Last Hallowe'en I was left here at Signs Central to hold down the fort and produce the Hallowe'en Signs page by myself. That page has become a classic and I received a pile of emails from readers about it. What can I say? It was one of those golden moments in journalism where all the pieces were right to hand, and all I had to do was relax into the flow and write.
This Hallowe'en the Signs Team have asked me if I would write again and I am hard-pressed to think of anything that can top last Hallowe'en's page. However, Hallowe'en Weirdness (as it is wont to do) has certainly begun to weave its spell around the events of the last couple of weeks and maybe - just maybe - I have some Hallowe'en Candy for everyone!