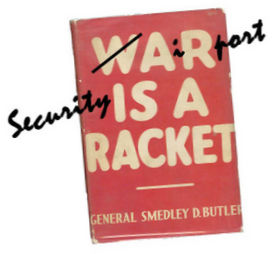 }We are a world at war. Not wars against nations as US Major General Smedley Darlington Butler was referring to when he wrote
War is a Racket
in 1935. Our war is a never-ending perpetual War Against Terror™, a phrase repeated ad nauseum by the Bush administration since 9/11, where you were either with the Neocons or "you were with the terrorists". Stasi-like draconian surveillance has merged with cutting edge technology to watch, catalog, record the movements, interactions, behavior, communications and interests of every citizen. In this world of
precrime
we are now treated as if we are potential terrorists. Whether it be a domestic extremist or a radicalized dissenter, there is a phantom enemy in our midst that is only revealed to the world when it enters the duty-free zone at airports. Where trenches marked the front-lines of wars in the past, the front-line in today's perpetual war is the airport boarding gate.
A multi-billion dollar industry has spawned surveillance and security systems with a supporting army of guards, agents, supervisors and security personnel. They keep us in line and keep us safe from the omnipresent threat of an ubiquitous, all-pervasive mythical terror. Thrust at us by a compliant media are over-hyped and sensationalized reports, hysterical speeches and horrifying attacks that almost very nearly happen or, as we are told, WILL happen, sometime soon, and are all so big and so scary that you must place your water bottle in the bin and take your shoes off to survive. It's all designed to paralyze our senses and reduce us to strip-searched carcasses as we sleepwalk along the travelators through naked scanners...
Airport security is a racket. It always has been.