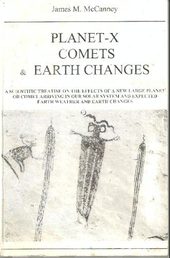 Planet-X, Comets & Earth Changes
by James M. McCanney
Minneapolis, MN: jmccanneyscience.com press, 2007 (first published in 2002)
182 pp.
A new model of the Universe
A scientific revolution in the theories of the nature of comets, solar system formation and astronomical phenomena in general is long overdue. For example, the impossibilities and contradictions inherent in the "dirty snowball comet model" and the "nebular collapse" theory of the origin of the solar system are legion. The theories fall short of explaining observed phenomena, but you'll never hear the scientists promoting them admit as much. Unfortunately, it seems that in all their mental excavations, the mass-produced scientists of our time have dug themselves into a trench of dreary proportions, carried along by the inertial stream of their cherished professors' naïve opinions. In fact, they can't even tell how deep they are in it, or that their theories are as woefully outdated as the mastodon fossils of which they catch passing glimpses. And thanks to
James McCanney's work
over the last thirty-odd years, they find themselves plunged, in the words of Mullah Nasr Eddin, "into the deepest galoshes that have ever been worn on sweaty feet."
James McCanney is something of a maverick in the scientific community. Having taught physics and mathematics at Cornell University, he was ousted because of pressure put on University authorities by professors in the astronomy department who didn't like what he was publishing. In that sense, academia is a tad like life in the Mob: "You can't say these things. If you do, we'll ruin you." But while McCanney may have suffered the fate of any scientist who attempts to go against the grain, his theories continue to hold up, predicting newly observed phenomena without having to resort to the "creeping crud" of widely accepted, bogus theories (McCanney's term for the shameless "revision" of old theories to account for unexpected observations).